Focus 1:1
Personalised Coaching.
What People Are Saying
Website words are cheap, but people are talking. We're not joking when we say "we don't just do average". 

"In the first 3 weeks, I noticed an improvement in strength and running form. The Taylored holistic and comprehensive approach is really like no other in Hamilton. I can't wait to see where it takes me."
Ange

"I'm 40 in a few weeks and so grateful to Taylored for the new perspective and the beginnings of a marvelous, stronger, healthier, more peaceful version of me. Come at me 40s!"
Natalie

"Cool range of experts in different fields that can help you reach your goals. Unlike a 'gym', consultants are a part of the membership which is pretty cool."
Greg

"Fully recommend the baby boot camp classes. They have knowledgeable & friendly specialists who help you get a good sweat on. Absolutely amazing services."
Eliza
Options & Pricing
The Taylored Focus 1:1 membership works off a credit system. Depending on your desired frequency and duration of sessions, a set number of credits are loaded into your Taylored account every week or fortnight to make a specialist booking via our App or Portal.
All Focus Members receive Unlimited Hub Access as part of their package.
SPECIALIST SESSION
Once a Fortnight
Focus SILVER
CHOOSE A SESSION DURATION
$30
/week

- 30mins
$42
/week

- 45mins
$49
/week

- 60mins
$72
/week

- 90mins
SPECIALIST SESSION
Once a Week
Focus GOLD
CHOOSE A SESSION DURATION
$58
/week

- 30mins
$80
/week

- 45mins
$95
/week

- 60mins
$138
/week

- 90mins
SPECIALIST SESSION
Twice a Week
Focus PLATINUM
CHOOSE A SESSION DURATION
$108
/week

- 30mins
$154
/week

- 45mins
$181
/week

- 60mins
$265
/week

- 90mins
Your Personalised Roadmap to Health.
For all new members, we prepare a Taylored Treatment plan. This is essentially your 3-month roadmap to navigate the next steps in your health. Using the Taylored App and/or Member Portal, you can then book in the recommended services and specialists as outlined.
Each booking is 1 x credit, as defined by your Membership to deliver Personalised Coaching. We do all the hard thinking to get your journey kick started. Then all you have to do is "show up".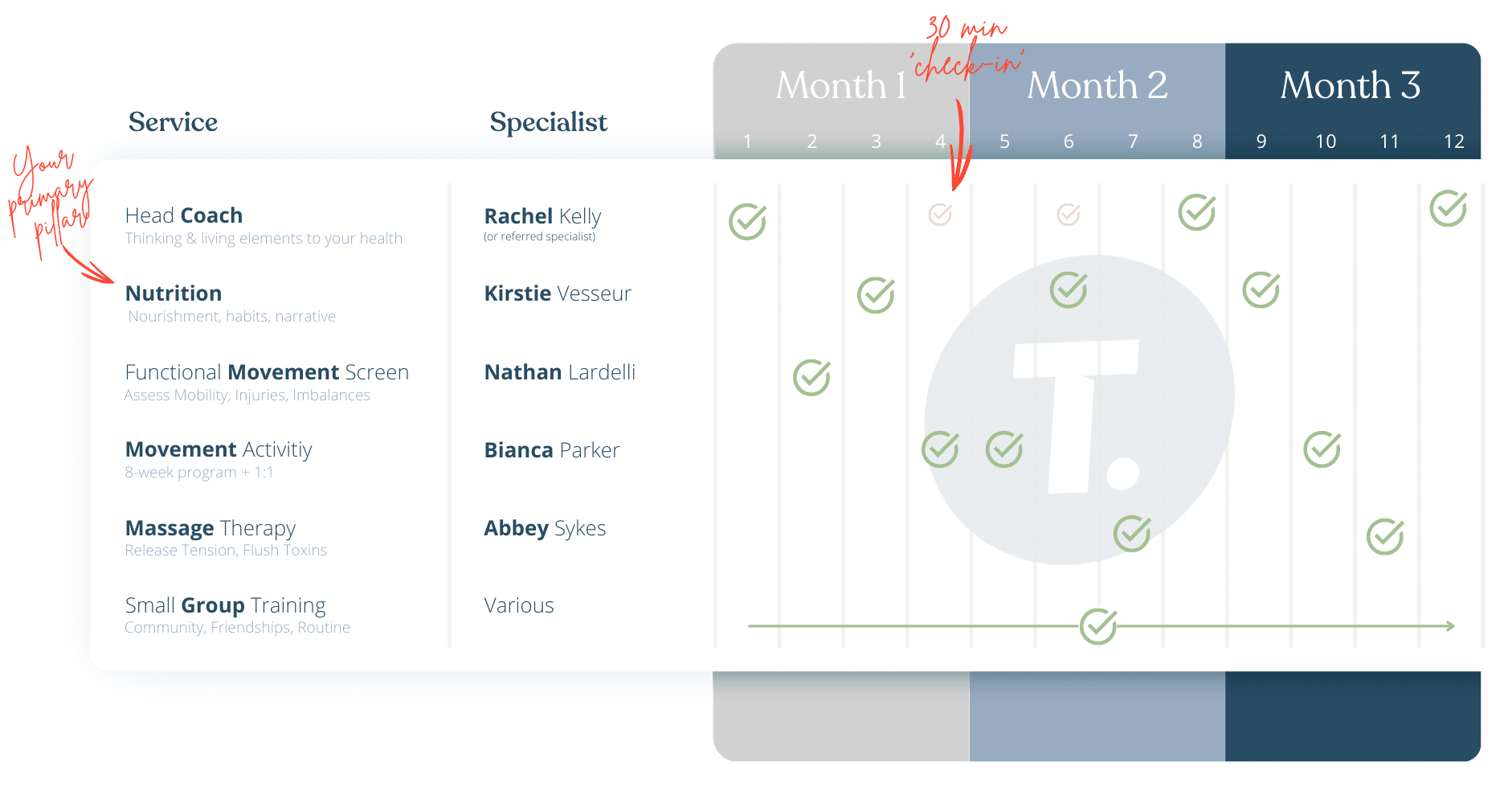 Curious about Personalised Coaching?
Interested in how it might help you?
Get Started with 5 Simple, Easy Steps.

Find Your Fit
Our 5 minute "Find Your Fit" quiz gives us insight into where you currently are & which pillars you need the most help with. It also gives us a feel for the type of practices you enjoy & your appetite for change.

Sign Up
If the recommendation from your quiz is a 'no-brainer' you can sign up straight away. An On-Boarding Buddy will walk you through the next steps. If you have questions about your results, simply book a consultation.

Consultation
 We take the information from your "Find My Fit" quiz and discuss on the phone the areas that need greater clarity or attention. This is especially helpful if you're struggling with a specific health issue.

Treatment Plan
Depending on the type of membership you choose, we will work with you to co-design a 12-week treatment plan to kick start your specialist journey and support your immediate needs & goals.

Follow the Plan
You either follow the plan self-managed, with a group, or a coach depending on your membership. The specialists that form your treatment team will still discuss your progress together and make any changes as needed.
These five steps repeat every 3-6 months depending on how you progress and to adapt to your immediate situation and needs.
Our Specialties.
As a holistic, multi-disciplinary team, we have a variety of skillsets. Some of our specialists are experts in one area; some have skills and expertise across multiple. But, we're ultimately a team that works together to support each other and our members.
Life Coaching
Help better understand what success looks like to you with simple, clear and measurable goals to help you get there. We also work on habits, boundaries and behavioural elements to support growth and healing.
Counselling
Our choices reflect our internal world. Unresolved emotional issues affect every day decisions. We help work through those issues, so you can make real progress. For more advanced therapy needs, we may refer you to an external Taylored Affiliate. 
Performance Coaching
Whether centered around business or athletic performance, we work with the latest science and biohacking to get the best out of your cognitive and physical health.
Nutrition
Using food to fuel and heal is a powerful tool for long-term health. Our standard nutrition sessions are for those who just need a little support to make healthier fuel choices, while understanding some of the way they self-sabotage. 
Clinical Nutrition
While our standard nutrition sessions provide general support and guidance, our clinical nutrition services take a more advanced research-based approach. Whether supporting performance, women's health, fertility or functional nutrition, this takes nutrition to a whole new level.
Women's Health & Fertility
Whether you're struggling with PMS, period pain, trying to conceive or menopausal, we have a health and nutrition coaches who are passionate about improving women's health and fertility.
Pregnancy & Recovery
Our specialists are qualified in prenatal and postnatal care, including nutrition, movement and massage services.
Functional Genetics
If you have ever done (or are interested in) genetic testing, we are able to translate complex genetic insights into practical, every day health action plans.
Functional Biochemistry
Using urine and stool analysis, we can work to improve cellular health, energy metabolism and gut health. Not only does this often lead to improved overall energy, but helps to combat skin conditions and stomach problems
Clinical Exercise Physiology
Clinical Exercise Physiology (CEP) is a specialty service, similar to physiotherapy but focuses on using functional movement practices to mobilise and treat physical injury and/or imbalances.
Rehabilitation
Working with the body to treat injury or post-surgical events, we improve recovery timelines and outcomes.
Massage Therapy
Our qualified musculoskeletal massage therapists use this manual practice to treat body tension, stiffness and restriction of movement. Combined with on-floor CEP, this is a powerful healing practice for improved mobility and function.
Functional Movement
Used to assess overall range of motion, imbalances and issues affecting healthy movement, and without being treated correctly, create pain or risk of on-going injury.
Strength & Conditioning
Once imbalances and mobility issues are identified and treated, we are then able to build upon strength and cardiovascular elements to create healthy movement practices for a strong, lean, pain-free body.
Once you're a member, here's what you can expect.

Free Off-Street Parking
We have plenty of free parking in the heart of Hamilton.

Free WiFi
So you can stream music to fuel your health practices.

Free Access to the Taylored Gym
Enjoy semi-private use of our full-equipped gym, including exercise equipment, free (and bar) weights, and a rig. PLUS we have FREE parking!

Fully-Provisioned Changing Rooms
We have showers, lockers, blow driers and toiletry products that actually care for your skin.

5-10% Off Supplements
Get at least 5% off BePure supplement orders via our easy-to-order Taylored App. For Homegrown Primal, that discount increases to 10%. 

10%* Discount Off Groceries

Enhanced 60+ Minute Massages
Get a FREE dose of BePure Magnesium to enhance your 60+ minute massage experience. This helps to calm your mind & body, enhances tension release & supports a great post-massage sleep.

Access to Exclusive Recovery Products
Depending on your membership, you can unlock exclusive recovery products during and after your session.

Advanced At-Home Testing
Our specialists are experts in interpreting at-home health testing which helps take the guesswork out of figuring out the biggest health challenges. 

Free Member Desktop & Mobile App
Our Taylored App provides an easy way to check your account, benefit credits, making and managing your specialist bookings.
WANT TO EXPLORE IN-PERSON?
Attend A Small Group Training Class for Free.
One small step can take you somewhere amazing.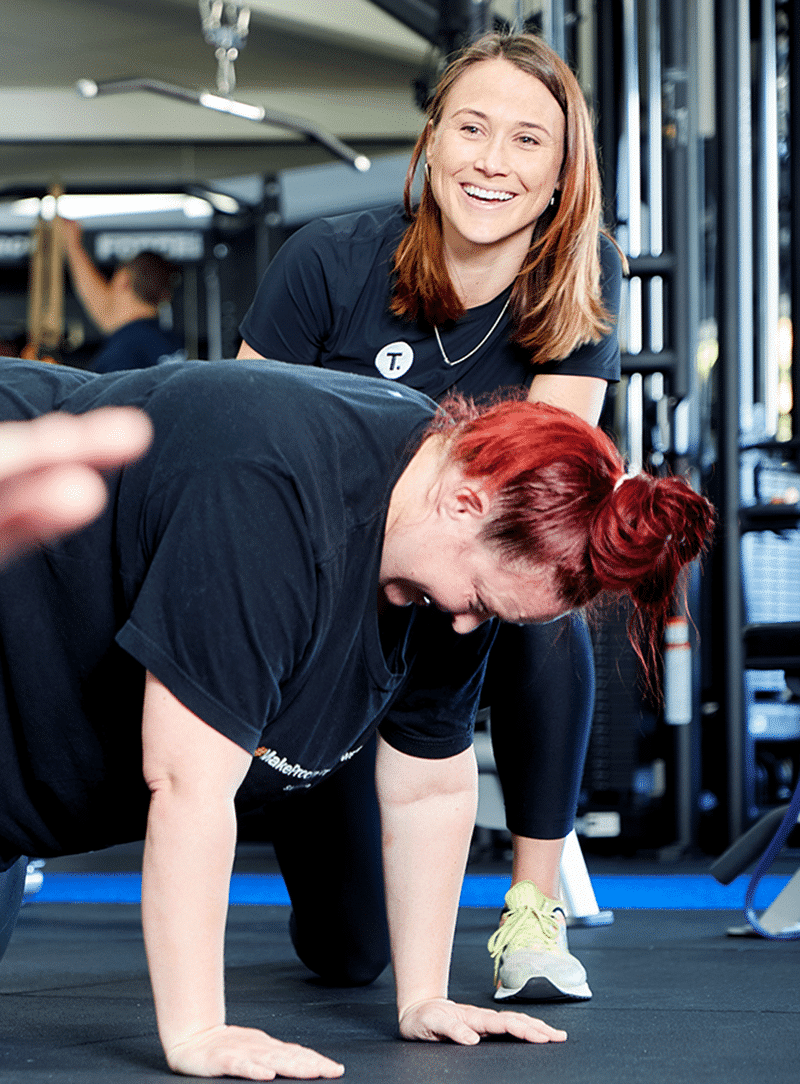 Hub Opening Hours
Mon-Fri: 5:30 AM - 9:30 PM
Sat-Sun: 6:30 AM - 8:30 PM
Hub Address
83B Tristram Street, Level 2
Hamilton, 3204
New Zealand